The Fall Vault - 27 Varieties
Spend

$95.00

to get

FREE SHIPPING
The Fall Vault
27 Total Varieties - $13,200 Total Est Crop Value
100% Made in the U.S.A.
100% Non-GMO
100% Heirloom
100% Open-Pollinated
Contents | Varieties | Free Gift | Life Span | Comparison | Growing Guide | USDA Zones
Suitable for USDA Zones 4-9 - What's my zone?
Fall Vault Varieties
Arugula - Slow Bolt

 

- 500mg (avg 180 seeds)
Bean - Contender - 20g (avg 43 seeds)
Bean - Provider

 

- 14g (avg 48 seeds)

Beet - Detroit Dark Red

 

- 1000mg (avg 100 seeds)

Broccoli - Calabrese

 

- 1150mg (avg 300 seeds)
Brussels Sprouts - Long Island

 

- 360mg (avg 100 seeds)
Cabbage - Golden Acre

 

- 1600mg (avg 370 seeds)
Cabbage - Red Acre

 

- 2000mg (avg 400 seeds)
Carrot - Scarlet Nantes

 

- 580mg (avg 640 seeds)

Cauliflower - Snowball Y

 

- 1000mg (avg 250 seeds)
Chives - Common

 

- 315mg (avg 115 seeds)

Cilantro - Coriander

 

- 1300mg (avg 100 seeds)
Collard Greens - Vates

 

- 800mg (avg 220 seeds)
Dill - Mammoth

 

- 245mg (avg 105 seeds)
Lettuce - Butter Crunch

 

- 750mg (avg 615 seeds)



Lettuce - Parris Island Romaine

 

- 750mg (avg 650 seeds)

Lettuce - Ruby Red Leaf

 

- 750mg (avg 300 seeds)
Lettuce - Salad Bowl

 

- 525mg (avg 500 seeds)
Onion - Evergreen Bunching

 

- 365mg (avg 173 seeds)

Parsley - Dark Green Italian Flat - 500mg (avg 240 seeds)

Pea - Dark Seeded Perfection

 

- 28g (avg 150 seeds)

Pea - Green Arrow

 

- 28g (avg 150 seeds)
Pea - Little Marvel - 25g (avg 100 seeds)

Radish - Cherry Belle

 

- 4000mg (avg 400 seeds)

Spinach - Bloomsdale

 

- 990mg (avg 76 seeds)

Squash - Winter Butternut

 

- 3.1g (avg 33 seeds)
Swiss Chard - Fordhook Giant

 

-

1.1g

 (avg 

110

 seeds)
---
100% Non-GMO Promise
Seed Armory does not offer lab created or genetically modified seed in any of our products. Our products will grow naturally without the genetic need for toxic fertilizers or herbicides like commercially available GMO seeds.
100% Heirloom Survival Seed
Our Heirloom Seed Vaults will produce the same great fruits and vegetables year after year. Unlike hybrid seeds, you won't find any mutant vegetables or seedless varieties in our offerings. 
The Heirloom varieties offered in our vaults will produce genetically similar fruits and vegetables from every seed harvested. Yes, you can save your seeds and re-plant them every year. That's the point of our Heirloom Survival Seed Kits. 
100% Open-Pollinated
The seeds contained in our Survival Vaults are completely Open-Pollinated. No fancy footwork is needed to get these plants to reproduce, just natural pollination by the Birds and the Bees... as well as other natural pollinators. 
---
What's Included?
27 Total Survival Seed Varieties

Over 6,300 Usable Seeds (Not Fillers)
Growing & Seed Saving Guide (e-Book, Electronic Delivery)
Complete Growing Instructions (On every packet)
Waterproof Packaging and Labels
Lifetime Updates - Growing Tips and Recipes
The Seed Armory Heirloom Seed Vaults contain enough produce to feed a family of 4 for years to come. Our strategically assembled survival seed kits are filled with usable seeds to grow food that you will actually eat.  
---
How long will it last?
Remember... Treat all seeds as if they're a living organism. They will naturally lose viability over time and it's your job to make sure that they've got the best environment to survive (We've already provided the safest packaging). 
The viability of seeds will vary for each type, but our heat sealed and moisture proof resealable packaging will help to keep them healthy for years to come. 
At room temperature, you can expect your seeds to survive from 3-7 years. Stored in a cooler climate, you could easily expect a lifespan of 7 to 25 years. (especially when frozen)
Room Temperature: 3-7 Years
Refrigerated: 5-10 Years
Frozen (Recommended): 15-25 Years
Our Seeds are ALWAYS Climate Controlled!
Our seeds, vaults and packets are kept at controlled temperatures until they ship out directly to you. Seed Armory takes pride in providing the freshest products.
Our packaging will provide food security and insurance for years to come. It's the only survival insurance policy that will feed your family in an emergency.
---


Why is it so valuable?
The Fall Vault contains an abundance of seeds that are packed in high quality resealable Mylar packets that will keep your seeds viable for years and will produce free food in perpetuity. 
The value comes from the retail crop potential of these vaults. In other words, what would the produce from these crops be worth if you had to buy them from a retailer?
Current Retail Potential: $13,200
(Value calculated as of 1/21/22)
Value is an estimate based on projected yield of fresh vegetables, fresh fruit, dried herb, fresh herb, and expected seed production from the crops grown.
Overall, the seeds contained in this vault can easily cover a small farm if planted at the same time. However, we expect that you'll manage your crops and grow what you'll need to provide for your family. Rotating crop varieties in/out every other year for similar varieties (tomato, peas, etc...). 
Disclaimer: Retail Values are calculated based upon optimal expected crop output. Consideration was taken for individual herbs dried expected weight and current retail values per pound. Prices for dried herbs change regularly, Seed Armory does not guarantee production quantities or retail ability of crops.
---
Growing & Seed Saving Guide
Normally $29.95 - Included Free (Delivered Electronically)
Our Growing and Seed Saving Guide is packed full of 172 pages of helpful information for:
Starting Your Garden
Growing Tips
Culinary Uses
Medicinal Uses
Harvesting Crops
Seed Saving for Next Season
This is not your standard pamphlet, you'll receive a 172 page book full of growing instructions, remedies, recipes and helpful tips for the novice gardener. (Delivered Electronically - Add the paperback version and get a special discount when purchased with any vault.)
---
4 Reasons People Invest in Seed Armory Survival Grade Seed Vaults
1) You receive the most diverse selection of nutrient dense produce
You're not stuck eating the same produce over and over, or wasting an abundance of unnecessary food.
Expand your palette, heirloom varieties are sought by most top chefs for their better flavor
2) Feed a Family of 4 for Years (or forever if you harvest seeds)
No worrying about whether or not you've got enough food to last
Enough food for unexpected guests, if you've rationed properly
3) The Profit potential is HUGE
You could easily supplement your income by selling at farmers markets
Fresh produce is an excellent bartering tool if you needed it (everyone needs to eat)
Heirloom seeds are in-demand and you'll be growing your own high value seed supply
4) The Savings are EVEN BIGGER
Significantly lower your grocery bill = more money in your pocket for other necessities
Produce prices have increased exponentially since Covid began, and they're only going to get higher
Our Open-Pollinated; Heirloom varieties will grow year after year from the same seed-stock (unlike garden store hybrid varieties)
---
The truth about where we are headed...
Maybe you noticed your grocery bill increase significantly over the past year...

Maybe you're a gardener that noticed heirloom seeds were few and far between this year...


As of 2019 the average 4 Person U.S. Household spent $10,995 per year on Food
Food prices in 2020 increased nearly 4% (as opposed to the avg 2%)
In 2021 Fresh Produce Increased an additional 6.5% on average. With everyday items (corn, beans, tomatoes, etc...) increasing 12.5%
As of January 2022, we've already seen another 7% on average!
That's an increase of 23.5% since December of 2019!
The Grocery Price Index found price inflation between April and June 2022 was the second-highest quarterly increase of any period it's tracked since October 2019.
2021 Corn Futures were up an EXPLOSIVE 25%
2022 Corn futures are up 45%!!!
---
Where will they grow?
Our Heirloom Seed Vaults are strategically assembled to include a vast range of USDA Growing Zones.
The Survival Super Vault is suitable for USDA Zones 4-9, but may be suitable for other regions if started earlier indoors or using a greenhouse growing method.
From the Desert Southwest to the Plains of Montana, the Survival Vault Super Kit will provide quality food crops for your family. Use our Growing & Seed Saving Guide to learn everything you need to know about starting your seeds in your area.
Click the map below to go directly to the USDA website to determine your specific growing zone.
* Seed may be treated depending on availability. Treated seeds are specially coated to increase germination viability and prevent damage from fungus or insects. Depending on availability, we may substitute treated or non-treated seed for this variety. The resulting produce grown from treated seed is no different than untreated seed, but care must be taken when handling these seeds. Do not allow pets or livestock to eat treated seed, also avoid having children handle seed that has been treated.
View full details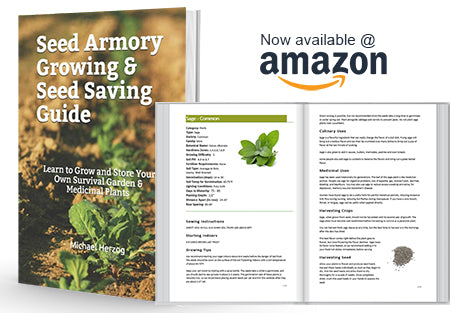 The Fall Vault - 27 Varieties