14 Total Varieties - $7,453 Total Value
100% Non-GMO
100% Heirloom
100% Open Pollinated

The Seed Armory Survival Vault Kits are what we believe to be the best packaged survival seeds with the longest shelf life. Each variety is individually packaged in resealable mylar bags, tucked inside a resealable mylar parent bag.
Although we recommend planting and reproducing your survival garden, our kits are designed to be stored for long periods of time so that you can save the kit for a future date.
---
Our Culinary Seed Vault was designed to compliment any vegetable survival garden with Kitchen Herbs and Spices.
Not just that, our seeds are Heirloom Varieties and Open Pollinated. This means that you'll be able to harvest seeds from each crop and grow the same great varieties the next year.
This is the last time you'll ever have to buy seeds.
---
Seed Viability for most varieties will vary quite a bit. However, our heat sealed, moisture proof and resealable mylar packets are what makes our seeds "Survival Grade." Seeds are germination tested and heat sealed to preserve optimal survival rates.
At room temperature, you can expect your seeds to survive from 3-7 years. Stored in a cooler climate, you could easily expect a lifespan of 7 to 25 years. (especially when *frozen).
Our packaging will provide food security and insurance for years to come. It's the only insurance policy that will feed your family in an emergency.
*Peas and Beans should be removed from the vault packaging and refrigerated to reduce risk of splitting.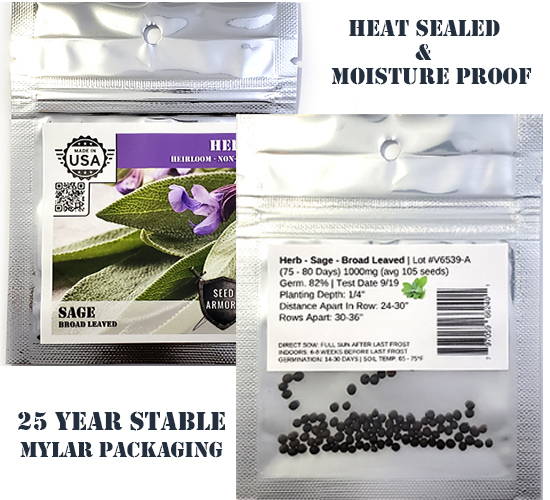 ---
14 Kitchen Herb & Spice Varieties
The Culinary Seed Vault contains some of the most common kitchen herbs and spices to compliment your existing vegetable garden.
This seed vault does great in small spaces, such as apartments and indoor gardens.
A Great Value
Culinary Seed Vault
Current Retail Potential $7,453.08
VIEW CALCULATION | LAST UPDATED: (10:58pm - 10/14/20)
See Current Included varieties in drop-down below...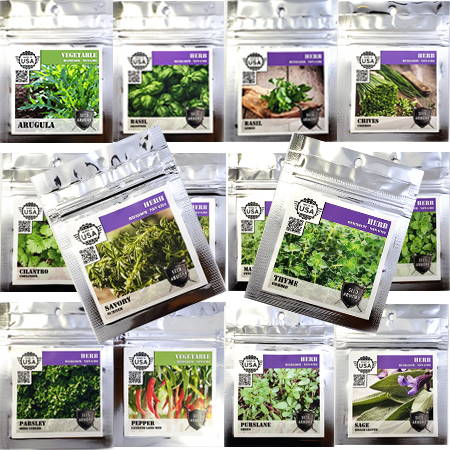 +Complete Growing & Seed Saving Guide
Normally $29.95  INCLUDED FREE
Our growing and seed saving guide is packed full of more than 150 pages of helpful information for:
Starting your garden
Growing tips
Culinary uses
Medicinal uses
Harvesting crops
Seed Saving for next season
Delivered Electronically - Click Here for more information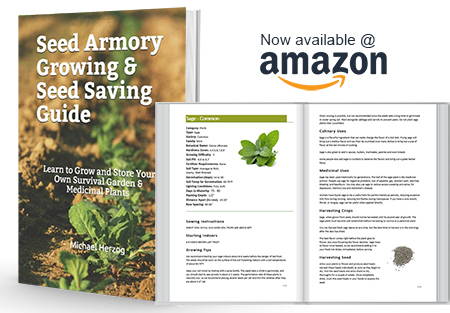 ---
Our Heirloom Seed Vaults are strategically assembled to include a vast range of USDA Growing Zones.
The Culinary Seed Vault is suitable for USDA Zones 4 - 9
From the Desert Southwest to the Plains of Montana, the Culinary Seed Vault will provide crops for your family. Use our Growing & Seed Saving Guide to learn everything you need to know about starting seeds in your area.
Click the link above or click on the map to go directly to the USDA website to determine your specific growing zone.