Culinary Vault - 14 Varieties
Spend

$95.00

to get

FREE SHIPPING
14 Total Varieties - $12,300 Total Est Crop Value
Average Bundled Packet Price - $3.83/packet
Total Packet Price (Purchased Individually) - $53.66
100% Non-GMO
100% Heirloom
100% Open-Pollinated
Suitable for USDA Zones 4-9 - What's my zone?
The Culinary Seed Vault is where you'll find your common kitchen herbs and spices. Every herb in this vault is germination tested for quality and freshness. Each variety is packaged in its own resealable mylar packet, and tucked inside a resealable mylar parent bag for further protection.
Although we recommend planting and reproducing your culinary herb garden as soon as possible, our kits are designed to be stored for long periods of time so that you can save the kit for a future date. 
---
 14 Total Seed Varieties
Our Culinary Seed Vault was designed to compliment any vegetable survival garden with great tasting Kitchen Herbs and Spices. 
Once you've started planting and harvesting your new Culinary Herb Garden, you'll never need to purchase seeds again. All of our varieties are Heirloom and Non-GMO, meaning you'll be able to harvest the seeds of annual varieties and plant them again year after year.
What's even better... These heirloom varieties are known to adapt to their growing environment generation after generation, giving the offspring of your new garden an even better production as the years go on. 
*See Current Seed Varieties in list below
---
How long will it last?
Remember... Treat all seeds as if they're a living organism. They will naturally lose viability over time and it's your job to make sure that they've got the best environment to survive (We've already provided the safest packaging). 
The viability of seeds will vary for each type, but our heat sealed and moisture proof resealable packaging will help to keep them healthy for years to come. 
At room temperature, you can expect your seeds to survive from 3-7 years. Stored in a cooler climate, you could easily expect a lifespan of 7 to 25 years. (especially when frozen)
Room Temperature: 3-7 Years
Refrigerated: 5-10 Years
Frozen (Recommended): 15-25 Years
Our packaging will food security and insurance for years to come. It's the only survival insurance policy that will feed your family in an emergency.
---
 Why is it so valuable?
Our Culinary Herb Garden contains 14 varieties of common (and not so common) kitchen herbs and spices that will compliment your existing vegetable garden. Each of our herbs were chosen for their flavor and medicinal properties. This vault makes a great companion to our Medicinal Seed Vault available separately. 
Current Retail Potential: $12,300
(Value calculated as of 1/21/22)
Value is an estimate based on projected yield of dried herb, fresh herb, and expected seed production.
The Basil Plant: Basil, commonly used in Italian dishes, could easily be one of the most valuable plants in this vault. This high-yielding plant could fetch as much as $14/lb dried, or even more sold as fresh basil. Our Basil Seeds produce beautiful and potent heirloom plant. 
Cilantro (Coriander): Cilantro seeds and dried herb are used in cooking. Aside from the great flair that Cilantro adds to many dishes, this herb has a ton of medicinal properties that you might not know of. Because of the potency of this herb, it's highly sought after as a bulk herb to be used in many different tinctures and concoctions. As a fresh herb, you could expect as much as $63/lb, whereas a dried cilantro could fetch nearly $21 per pound. 
Oregano: This is an herb that you've likely already got plenty of in your spice cabinet. Aside from using Oregano in different dishes and sauces, much like Cilantro, Oregano is highly sought after as a medicinal herb and demands upwards of $15/lb to purchase bulk and dried. 
Overall, the seeds contained in this vault can easily cover 3,500sq ft of condensed garden space. With such a small investment in these easy-to-grow herbs, you could not only stock your spice rack, but stock your wallet as well. 
---
Culinary Herb Varieties

Arugula - Slow Bolt - 500mg (avg 180 seeds)
Basil - Genovese - 450mg (avg 265 seeds)
Basil - Lemon - 265mg (avg 165 seeds)
Chives - Common - 315mg (avg 115 seeds)

Cilantro - Coriander - 1300mg (avg 100 seeds)
Dill - Common - 250mg (avg 105 seeds)
Marjoram - Sweet - 250mg (avg 1100 seeds)
Mustard - Sthrn Giant - 3.8g (avg 2000 seeds)
Oregano - Italian - 125mg (avg 1000 seeds)
Parsley - Dk Green Italian Flat - 195mg (avg 95 seeds)
Pepper - Cayenne - 245mg (avg 40 seeds)
Sage - Broad Leaved - 1000mg (avg 105 seeds)
Savory - Summer - 1000mg (avg 1500 seeds)

Thyme - Common - 200mg (avg 355 seeds)
That's over 6,400 Quality Seeds Total
Disclaimer: Retail Values are calculated based upon optimal expected crop output. Consideration was taken for individual herbs dried expected weight and current retail values per pound. Prices for dried herbs change regularly, Seed Armory does not guarantee production quantities or retail ability of crops.
---
Growing & Seed Saving Guide
Normally $29.95 (Included Free)
Our Growing and Seed Saving Guide is packed full of more than 150 pages of helpful information for:
Starting Your Garden
Growing Tips
Culinary Uses
Medicinal Uses
Harvesting Crops
Seed Saving for Next Season
Delivered Electronically - Add the paperback version
---
Where will they grow?
Great as an Indoor Seed Kit, most herbs contained in this vault will do excellent as a window-sill assortment for fresh indoor kitchen herbs.
Our Heirloom Seed Vaults are strategically assembled to include a vast range of USDA Growing Zones.
The Culinary Seed Vault is suitable for USDA Zones 4-9.
From the Desert Southwest to the Plains of Montana, the Culinary Seed Vault will provide quality medicinal crops for your family. Use our Growing & Seed Saving Guide to learn everything you need to know about starting your seeds in your area.
Click the map below to go directly to the USDA website to determine your specific growing zone.
View full details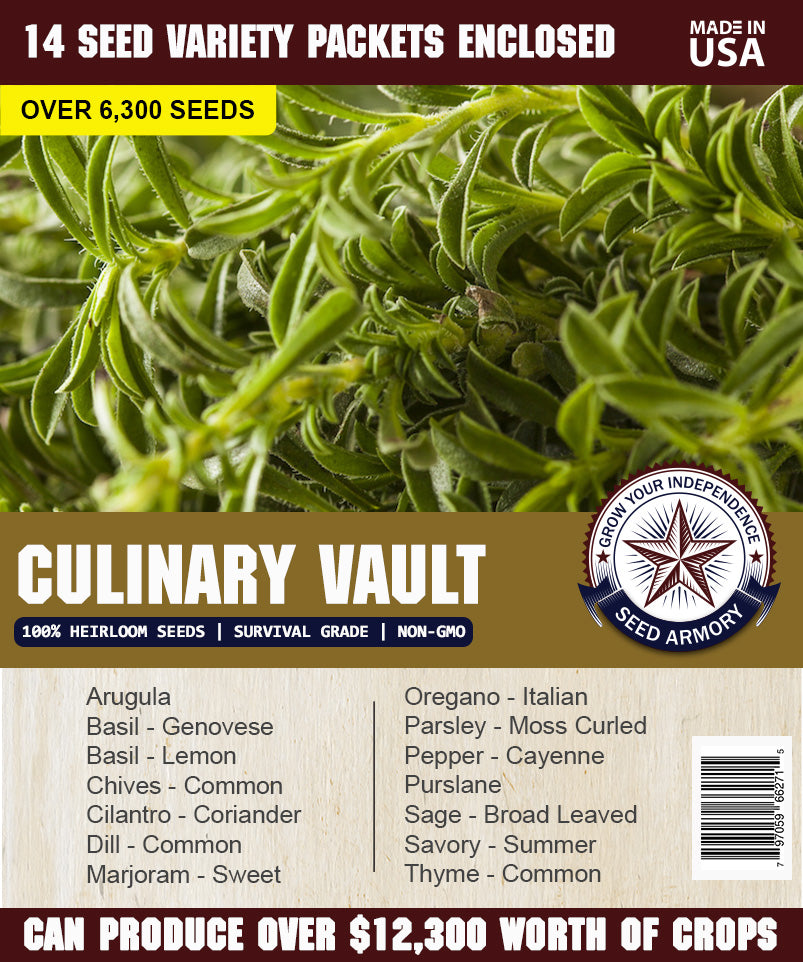 Culinary Vault - 14 Varieties