22 Total Varieties - $11,085.92 Total Value
100% Non-GMO
100% Heirloom
100% Open Pollinated
The Seed Armory Rapid Grow Vault Kits are the best packaged survival seeds with the longest shelf life. Each variety is individually packaged in resealable mylar bags, tucked inside a resealable mylar parent bag.
Our kits are designed to be stored for long periods of time so that you can save the kit for a future date.
---
22 Total Survival Seed Varieties
Our Rapid Grow Seed Vault was designed to produce quick growing results in the event of a sudden supply chain shortage. Most of the varieties found in this survival vault will produce edible crops within 60 days (some much quicker). This is an important kit to have on-hand, with many varieties able to be grown year-round in a cold frame greenhouse.
All of the varieties we carry are Open Pollinated, 100% Heirloom & Non-GMO. This means you'll be able to harvest the seeds from your crops year after year and you'll never need to buy seeds again.
---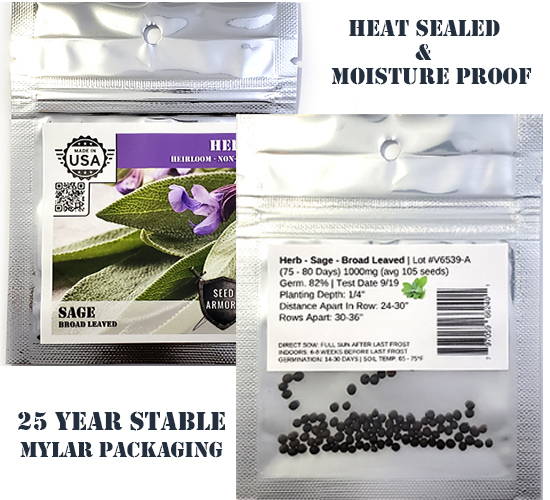 Up to 20 Year Reliable Seed Storage
Seed Viability for most varieties will vary quite a bit. However, our own experience has proven that the type of packaging we use will offer the longest possible life span of the seeds enclosed.
At room temperature, you can expect your seeds to survive at least 5-7 years. Stored in a cooler climate, you could easily expect a lifespan of 10-20 years.
Don't cheap out and sacrifice your long term security for short term savings, we didn't. Mylar is expensive, but it's durability and quality are worth the extra investment.


All Seed Armory Packets are Mylar packed and Heat Sealed.
---
22 Quick Growing Seed Varieties
Our Rapid Grow Seed Vault can provide over $11,000 worth of produce from this one bag! We've paid special attention to quick growing and nutrient dense produce. Don't be duped by kits that advertise tens of thousands of useless seeds. You WILL USE EVERY SEED IN THIS VAULT, no fillers.
The most bang for your buck
Rapid Grow Vault
Current Retail Potential $11,085.92
VIEW CALCULATION | LAST UPDATED: (10:38pm - 7/14/21)
See Current Included varieties in the table below...
+ Complete Growing & Seed Saving Guide
Normally $29.95 INCLUDED FREE
Our growing and seed saving guide is packed full of more than 150 pages of helpful information for:
Starting your garden
Growing tips
Culinary uses
Medicinal uses
Harvesting crops
Seed Saving for next season
Delivered Electronically - Click Here for more information
Add the Paperback Version and Save 50%