14 Total Varieties - $8,058 Total Value
100% Non-GMO
100% Heirloom
100% Open Pollinated

The Seed Armory Survival Vault Kits are what we believe to be the best packaged survival seeds with the longest shelf life. Each variety is individually packaged in resealable mylar bags, tucked inside a resealable mylar parent bag.
Although we recommend planting and reproducing your survival garden, our kits are designed to be stored for long periods of time so that you can save the kit for a future date.
---
Our Medicinal Seed Vault was designed to provide your family with a variety of herbs that can be used in treating many different ailments in a survival situation. The incredible healing properties of the herbs contained in this kit will help to keep your family well, even if you're unable to acquire traditional medicine during a trying time.
---
Seed Viability for most varieties will vary quite a bit. However, our heat sealed, moisture proof and resealable mylar packets are what makes our seeds "Survival Grade." Seeds are germination tested and heat sealed to preserve optimal survival rates.
At room temperature, you can expect your seeds to survive from 3-7 years. Stored in a cooler climate, you could easily expect a lifespan of 7 to 25 years. (especially when *frozen).
Our packaging will provide medicinal security and insurance for years to come. It's the only survival insurance policy that will heal your family in an emergency.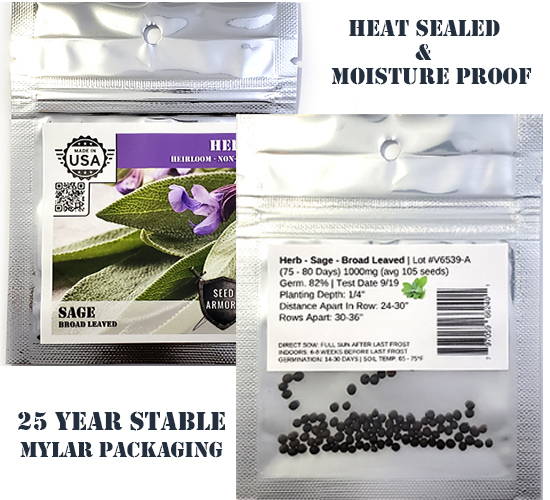 ---
14 Medicinal Herb Varieties
Our Medicinal Vault contains 14 varieties of herbs and flowers that all contain specific medicinal properties. These herbs are a must-have in your survival garden, seeing as medicine may become the very key to your seu
A Great Value
Medicinal Seed Vault
Current Retail Potential $8,058.35
VIEW CALCULATION | LAST UPDATED: (10:56am - 10/14/20)
See Current Included varieties in table below...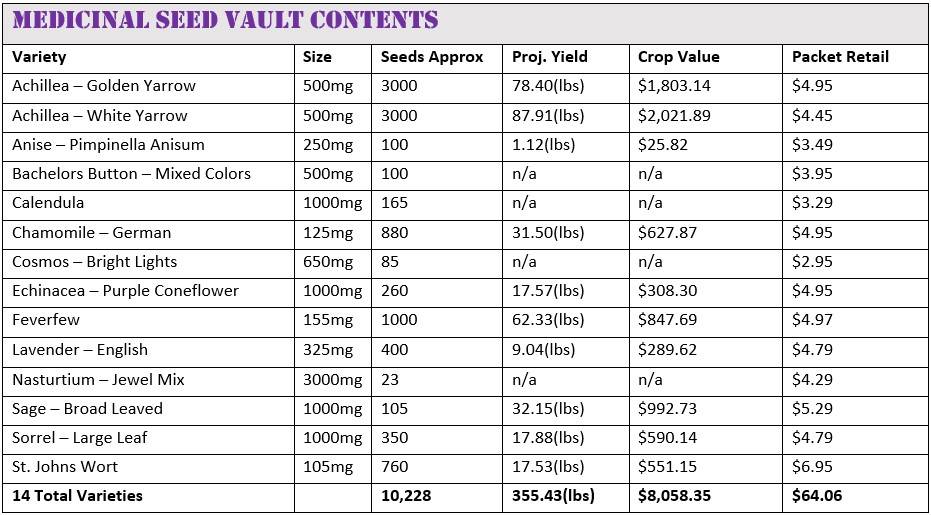 Disclaimer: Retail Values are calculated based upon optimal expected crop output. Consideration was taken for individual herbs dried expected dried weight and current retail values per pound. Feverfew is one of the most valuable herbs for this package, estimated to produce $14,960 worth of dried herbs. Do yourself a favor and check the price per pound of feverfew, you may want to start a new business. Prices for dried herbs change regularly, Seed Armory does not guarantee production quantities or retail ability of crops.
+Complete Growing & Seed Saving Guide
Normally $29.95  INCLUDED FREE
Our growing and seed saving guide is packed full of more than 150 pages of helpful information for:
Starting your garden
Growing tips
Culinary uses
Medicinal uses
Harvesting crops
Seed Saving for next season
Delivered Electronically - Click Here for more information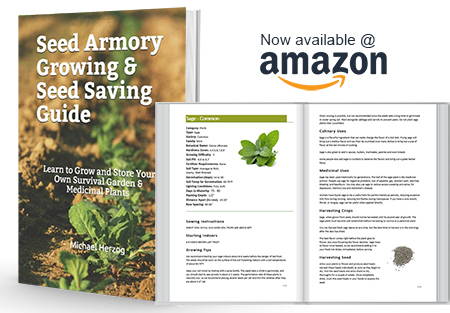 ---
Our Heirloom Seed Vaults are strategically assembled to include a vast range of USDA Growing Zones.
The Medicinal Seed Vault is suitable for USDA Zones 4 - 9
From the Desert Southwest to the Plains of Montana, the Medicinal Seed Vault will provide quality medicinal crops for your family. Use our Growing & Seed Saving Guide to learn everything you need to know about starting seeds in your area.
Click the link above or click on the map to go directly to the USDA website to determine your specific growing zone.