Turnip Seeds - Purple Top
Spend

$95.00

to get

FREE SHIPPING
Packed in Resealable Long Life Mylar
Moisture Proof Packets
10+ Year Survival Seed Viability

Category: Vegetable
Type: Turnip
Variety: Purple Top
Family: Brassicaceae
Botanical Name: Brassica rapa subsp. rapa
Hardiness Zones: 2,3,4,5,6,7,8,9
Growing Difficulty:  3        
Soil PH:  6.0 to 6.5
Fertilizer Requirements: None
Soil Type: Rich, Loose, Well-Draining
Germination (days): 7 to 15              
Soil Temp for Germination: 45-85°F
Lighting Conditions: FULL SUN
Days to Maturity:  40 - 50
Planting Depth:  1/2"
Distance Apart (in row):  4-6"
Row Spacing: 12-24"
Sowing Instructions
DIRECT SOW 3 WEEKS BEFORE LAST FROST OR AFTER SUMMER HEAT FOR FALL CROP
Starting Indoors
DO NOT START INDOORS
Growing Tips
Purple Top Turnips are a cool weather crop and thrive when planted around three weeks before the last spring frost.
If you are in a southern climate, we recommend planting your turnips after the heat of the summer has passed to have an abundant fall and early winter harvest.
We recommend the use of mulch to control moisture and prevent weeds from overtaking your crop. The only pest to watch out for is the black harlequin bug, if spotted, remove these pests to prevent crop damage.
Culinary Uses
Turnips can be used the same way that potatoes would be used in dishes. Try turnips baked or broiled, in soups, stews and stir-fries. Turnips are also excellent when lightly steams or roasted with butter and salt.
Harvesting Crops
If harvesting for the greens, harvest them as soon as they reach a good enough size for eating.
If harvesting for both the greens and the root, you should only harvest 2 to 3 leaves per root. Keep in mind that smaller turnips have the most tenderness and flavor. They should be pulled when they reach around 1-3" in size. Cut the tops to about ½" and store in a cool dark place (do not wash dirt off until ready to use).
Gardeners with warmer winters should apply a mulch layer and leave the crop in the ground over winter.
Harvesting Seed
Use caution when planting Turnips, as they will cross-pollinate with other varieties of turnips. This vegetable is a Biennial and will need to over-winter before harvesting seeds.
In warmer climates, a layer of mulch will be sufficient protection for over-wintering. In colder climates, you should dig up the turnips, trim the tops to 1" and store them in damp sand at 33-40°F until you're able to replant in the spring.
Once replanted, the turnips will start to grow flowering stalks with seed pods. Once the seed pod turns brown, remove the pods or entire plant and hang upside down in a safe location to dry. Crush the seed pods to expose the seeds and store in a cool dry place. Seeds should stay viable for up to 4 years depending on your storage method.
View full details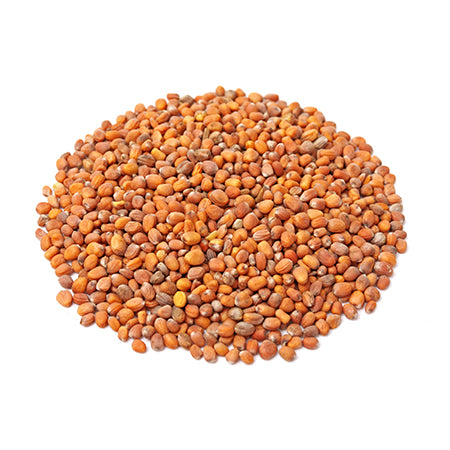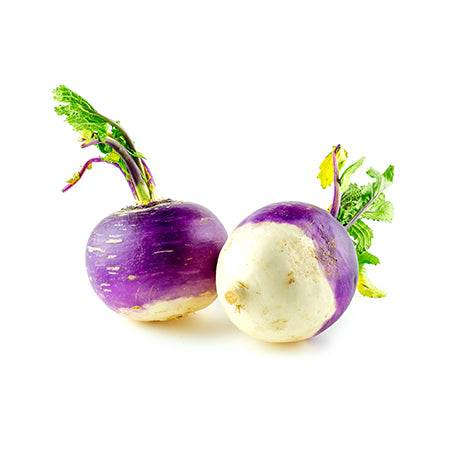 Turnip Seeds - Purple Top