Basics Seed Vault - 14 Varieties
Spend

$95.00

to get

FREE SHIPPING
14 Total Varieties - $11,200 Total Est Crop Value
Average Bundled Packet Price - $4.09/packet
Total Packet Price (Purchased Individually) - $57.22
100% Non-GMO
100% Heirloom
100% Open-Pollinated
Suitable for USDA Zones 4-9 - What's my zone?
The Seed Armory Basics Vault contains your standard garden varieties. Suitable for growing in a small garden plot to supplement your existing produce consumption. 
---
14 Total Seed Varieties
Our Basics Vault was designed with the typical property owner in mind. You could easily harvest the rewards of this vault from a small city lot or neighborhood yard. These varieties will fill a pantry with plenty of preserved goods and supply your family with a great supplemental food source for years to come.
All of the varieties we carry are Open Pollinated, 100% Heirloom & Non-GMO. This means you'll be able to harvest the seeds from your crops year after year and you'll never need to buy seeds again.
---
How long will it last?
Seed viability for most varieties will vary quite a bit. However, our heat sealed, moisture proof and resealable Mylar packets are what makes our seeds "Survival Grade." Seeds are germination tested and heat sealed to preserve optimal survival rates.
At room temperature, you can expect your seeds to survive from 3-7 years. Stored in a cooler climate, you could easily expect a lifespan of 7 to 25 years. (especially when frozen)
Room Temperature: 3-7 Years
Refrigerated: 5-10 Years
Frozen (Recommended): 15-25 Years
Our packaging will provide food security and insurance for years to come. It's the only survival insurance policy that will feed your family in an emergency.
---
Why is it so valuable?
Our Basics Vault contains 14 standard garden varieties of Vegetables. This economical seed vault is great for those on a budget that want to get a handle on gardening, without investing a large amount of money. 
Current Retail Potential: $11,200
(Value calculated as of 6/13/22)
Value is an estimate based on projected yield of crops that these plants provide.
Our Basics Vault can provide over $11,200 worth of produce from this one bag! We've paid special attention to the space required to grow the seeds in this vault. Maximize your growing potential and minimize your grocery bill. 
Disclaimer: Retail Values are calculated based upon optimal expected crop output. Consideration was taken for individual herbs dried expected weight and current retail values per pound. Prices for dried herbs change regularly, Seed Armory does not guarantee production quantities or retail ability of crops.
---
Basics Vault Varieties

Bean - Contender - 20g (avg 43 seeds)

Broccoli - Green Calabrese - 1150mg (avg 300 seeds)

Cabbage - Red Acre - 2000mg (avg 410 seeds)
Cantaloupe - Honeydew Orange Flesh - 625mg (avg 25 seeds)
Cauliflower - Snowball Y - 1000mg (avg 250 seeds)
Lettuce - Crisphead Iceberg - 750mg (avg 650 seeds)
Onion - Red Burgundy - 620mg (avg 160 seeds)
Pea - Dark Seeded - 28g (avg 150 seeds)
Pepper - California Wonder - 400mg (avg 48 seeds)
Rutabaga - American Purple Top - 750mg (avg 260 seeds)
Squash - Winter Spaghetti - 4.75g (avg 30 seeds)

Sunflower - Mammoth Grey - 4.65g (avg 40 seeds)
Tomato - Floradade - 450mg (avg 210 seeds)
Tomato - Homestead - 250mg (avg 90 seeds)
That's over 2,600 Quality Seeds Total
---
Growing & Seed Saving Guide
Normally $29.95 (Included Free)
Our Growing and Seed Saving Guide is packed full of more than 150 pages of helpful information for:
Starting Your Garden
Growing Tips
Culinary Uses
Medicinal Uses
Harvesting Crops
Seed Saving for Next Season
Delivered Electronically - Add the paperback version 
---
Our Heirloom Seed Vaults are strategically assembled to include a vast range of USDA Growing Zones.
The Independence Seed Vault is suitable for USDA Zones 4-9.
From the Desert Southwest to the Plains of Montana, the Medicinal Seed Vault will provide quality medicinal crops for your family. Use our Growing & Seed Saving Guide to learn everything you need to know about starting your seeds in your area.
Click the map below to go directly to the USDA website to determine your specific growing zone.
View full details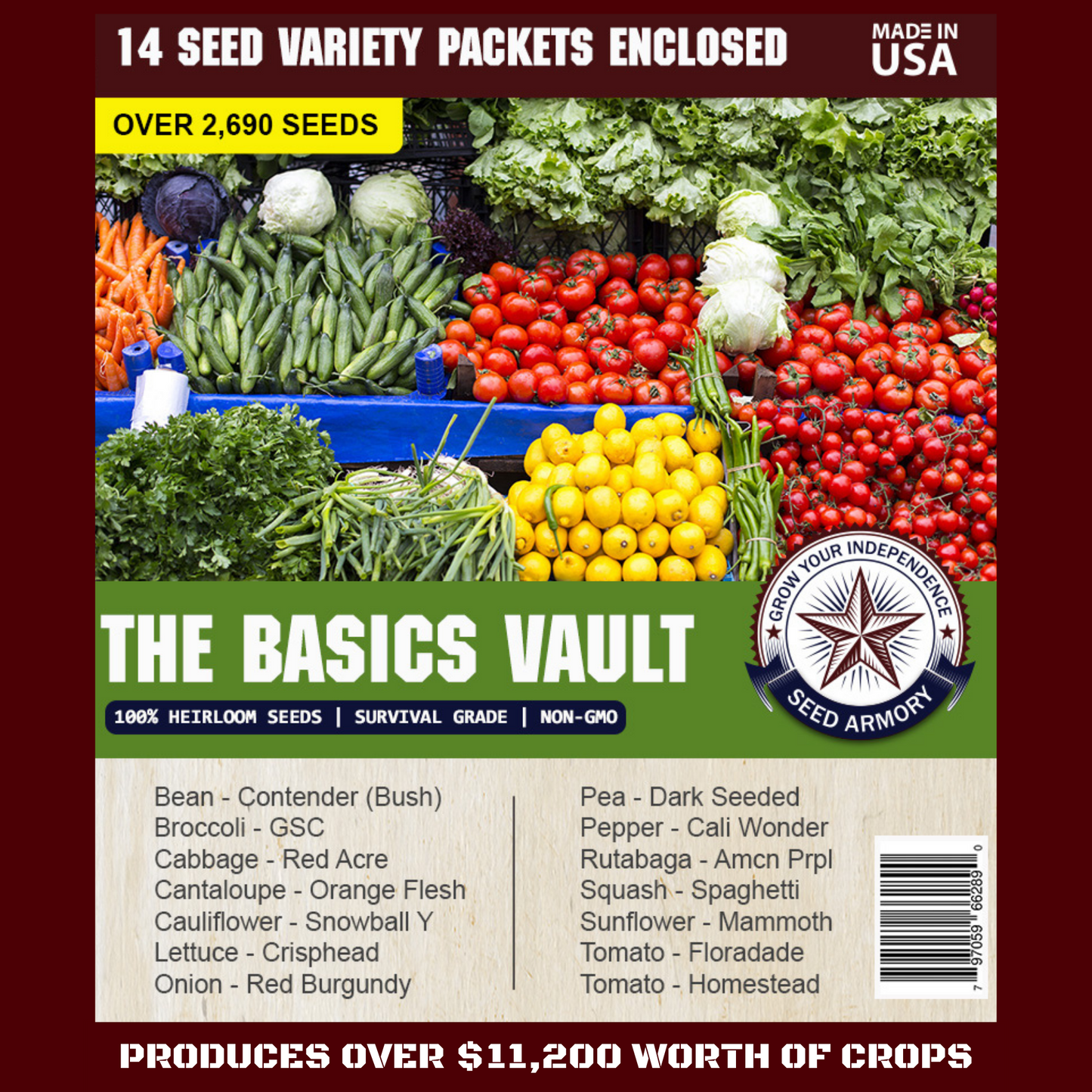 Basics Seed Vault - 14 Varieties