[COMING SOON] Pollinator Bee House Kit (with Bees)
Spend

$95.00

to get

FREE SHIPPING
Complete Kit: Bee Home, Bee Cocoons, and Nesting Tube Box in One Package
Our all-in-one pollinator kits have everything you need to get started. Each kit includes a bee home, bee cocoons, and nesting tubes specifically designed for leafcutter bees.
With our bees for sale, you don't require any beekeeping lessons, messy clay, or additional equipment. We have carefully considered every aspect and consolidated it into one convenient Kind Bee pollination starter kit. All you need to provide are flowers or plants for the bees to pollinate.
Key Features of the Kit:
Spacious Front Porch: Watch your bees hang out and feel free to pay them a visit!
Weather Protection: Roof overhang shields the bees from wind, rain, and excessive sunlight.
Cocoon 'Loft': Simply slide in the cocoon box, and they will make themselves at home!
Pre-installed Mounting Bracket: Hang your bee home or place it on a flat surface effortlessly.
Everything You Need: Includes cocoons and a nesting tube box for a comprehensive experience.
EMBRACE NATURE'S CONNECTION
Observe Bee Hatchlings, Relax on Their Porch, and Witness Cocoon Building
Are you interested in preserving our planet while having a front-row seat to observe these friendly creatures in action? Absolutely! Observing these charming insects buzzing around your garden can be a tranquil meditation experience, and it's rewarding to know that you're contributing to the growth of our bee population. Who knows, you might even learn something new along the way!
AMPLIFY YOUR GARDEN'S POLLINATION
Faster Pollen Distribution: Fuzzy Bellies vs. Sticky Bellies!
Did someone mention super pollination? Absolutely! These adorable bees have fuzzy bellies, unlike honey bees with sticky bellies, which enables them to distribute pollen more effectively as they travel across plants and flowers. Additionally, their swiftness allows them to visit a greater number of flowers and plants each day.
SKIP THE HARD WORK
No Need for Beekeeping Supplies! No Messy Beehives!
Become a beekeeper without the hassle using our beginner-friendly bee box starter kit. Leafcutter bees are the easiest to raise, and you won't require any specialized beekeeping equipment or deal with sticky beehives. Simply mount your bee home in the ideal location, open the cocoon box lid, and enjoy! Remember to place the home where you can easily observe it...you'll definitely want to drop by and say hello.
No prior experience required.
Bee House Installation:
Choose a location within 300 feet of your desired flowers/plants for pollination.
Position the bee house at waist height or higher to prevent damage from pets or critters.
Avoid west-facing positions to minimize afternoon sun exposure.
Keep the bee house dry by elevating it and away from sprinkler spray.
Incubating Cocoons:
Option 1: Inside Hatching
Keep the cocoon box lid on while indoors.
Place the box in a visible location, like a window sill.
Maintain a temperature between 70-90 degrees Fahrenheit.
Ensure the cocoon box is secure and pet-proof.
Option 2: Outside Hatching
Cut the stickers securing the top lid of the cocoon box.
Place the top lid in the bee loft of the bee house.
Wait for Hatching:
Hatching time depends on temperature (1-3 weeks).
Once you see 10-20 bees, follow the directions for Outside Hatching.
Bees will mate immediately.
Enjoy Nature's Action:
Experience nature up close.
Arrival Day:
Keep the cocoon box lid closed until ready to transfer bees.
Place the bee house where you can observe the bees.
Choose to hatch the cocoons inside or outside.
Protect the bee house from sprinkler spray and ensure morning sun exposure.
Bee Meets Flower:
Watch the bee's pollination process.
Bees feed on nectar stored in the flower's base.
Bees gather pollen as they pass the Stamen.
Bees deliver pollen to the Pistil of the next flower.
Bees continue collecting nectar and pollen to spread love throughout your flowers.
Appreciate nature's harmonious workings!
View full details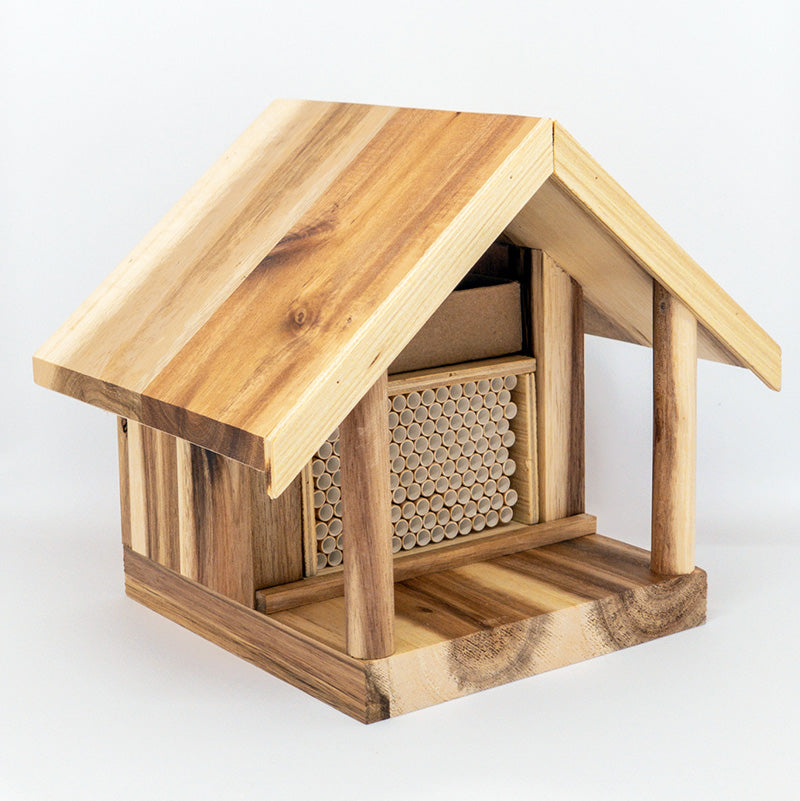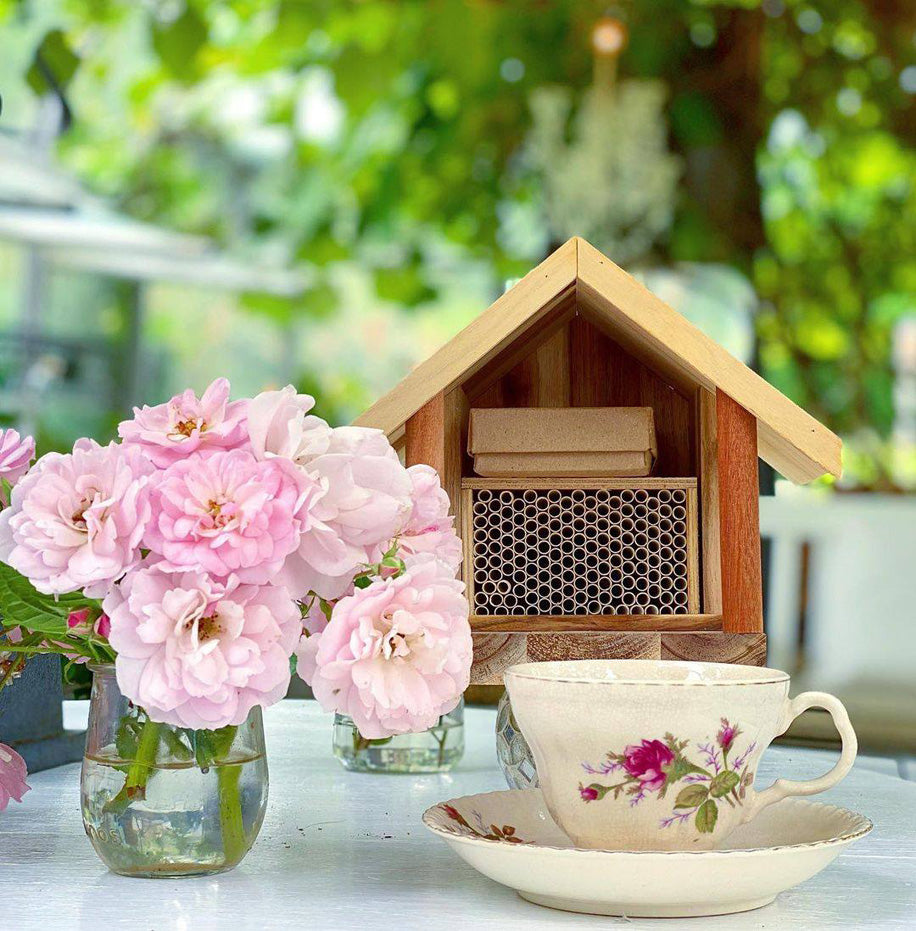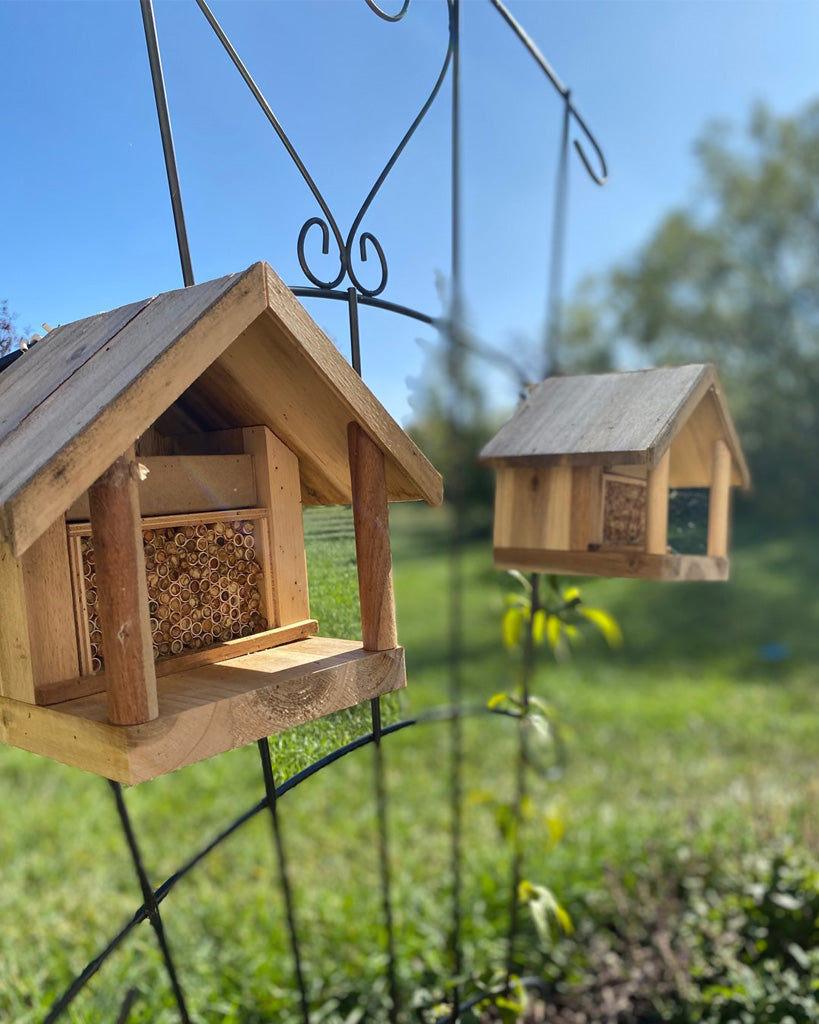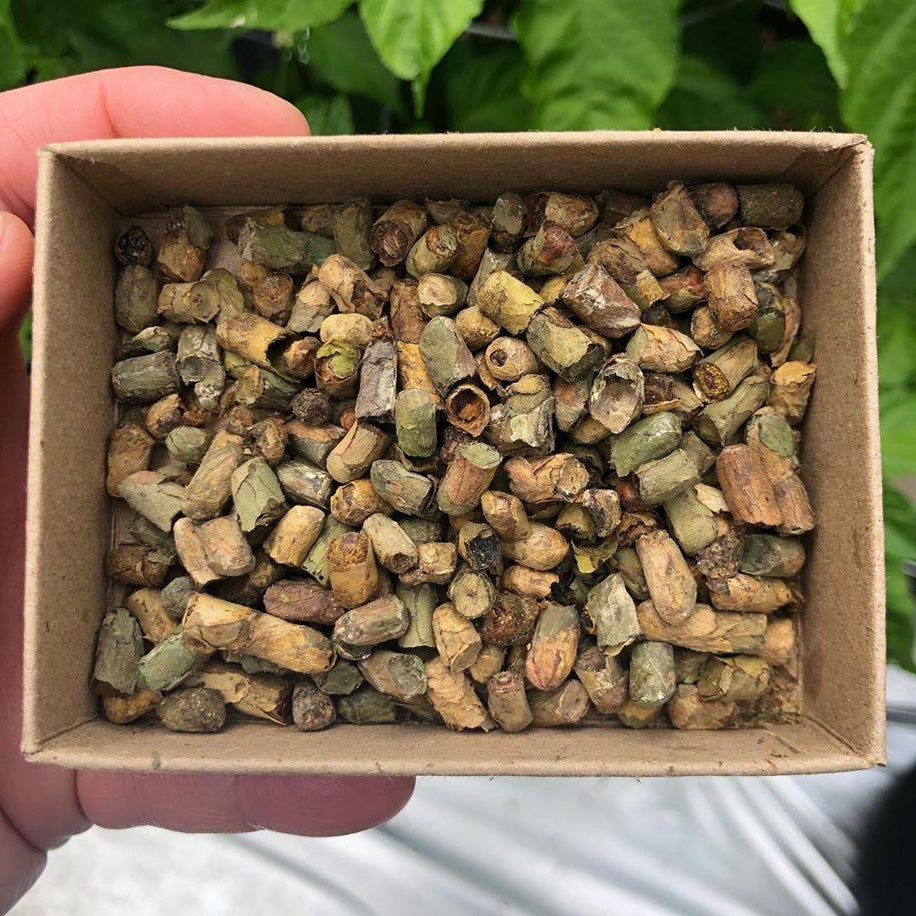 [COMING SOON] Pollinator Bee House Kit (with Bees)